A patio is a great place to relax in the fresh air and enjoy the serenity of nature. Do you want to design your own patio? Thankfully, you don't need to have a fortune to make a good patio space. You just need to look for inexpensive patio ideas that inspire and ignite creativity. 
According to Forbes, the cheapest patio installation can cost you from $500 to $1,000. This article is here to help you with patio ideas on a budget. Specifically, you'll learn what plants and lighting to choose for your patio and how to design it so it can highlight elegance or give your backyard space a vintage feel. 
Simple Selection of Plants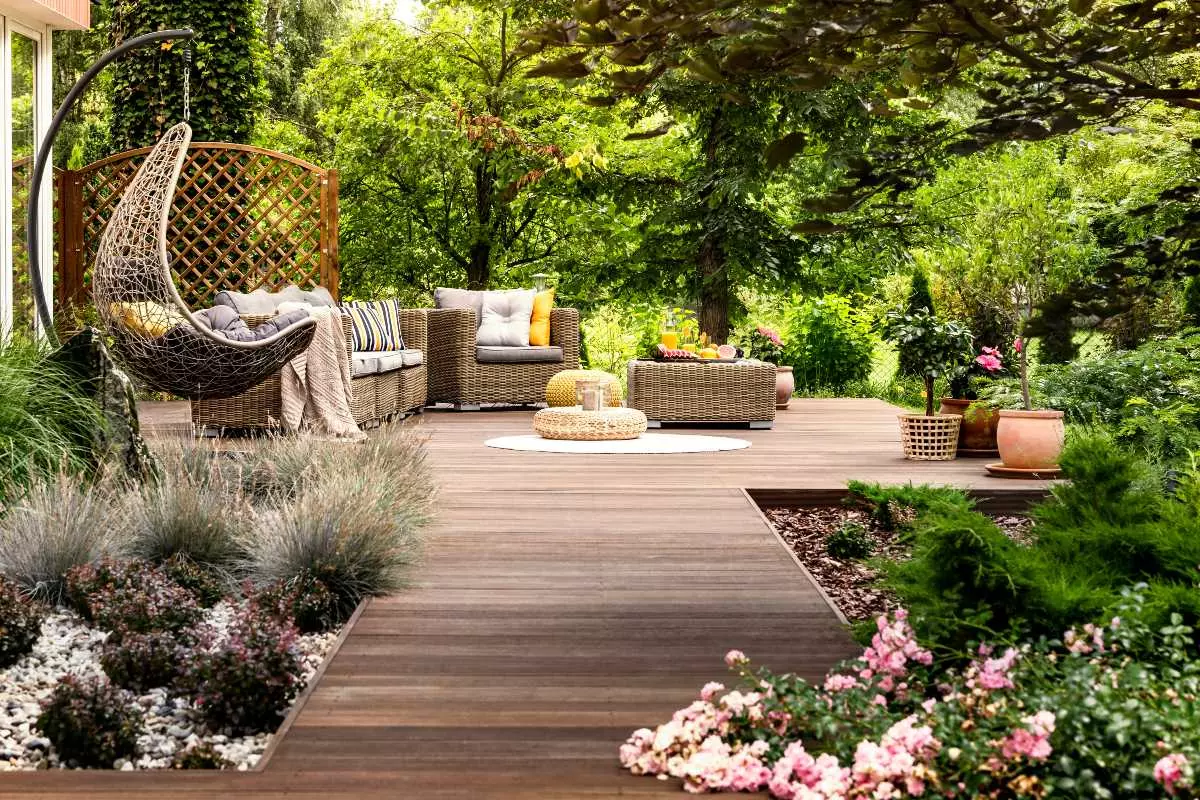 When looking for small patio ideas on a budget, the selection of plants plays a unique role. With well-chosen plants, you can make your patio a welcoming space to unwind in. So, what plants to choose for your patio? Undoubtedly, you can opt for edible crops like cherries and berries. 
What about scent? You can pick richly perfumed flowers and aromatic foliage, such as roses, lilacs, lilies, gardenia, lavender, as well as Korean spice viburnum and Andromeda. Hostas are ideal for shady patios. To know approximately how much outdoor plants cost, consider searching on Amazon and Walmart. 
Select Low-Maintenance Plants
Plants are also a low-cost way to beautify the space. If you prefer low-maintenance or easy-care plants, consider the following:
October Daphne is ideal for filling in the sunny spaces.
Rosemary for dry conditions
Boston fern for shadier outdoor spaces
Basil, lavender, sage, thyme, mint, and oregano thrive well in shady patios. They'll fill your space with a pleasant smell and grow well if there is sun and regular water. You can use them in your kitchen as well.
Potted plants are ideal for those who don't have enough space for a traditional garden. You can choose Angelonia plants, which are tough and can easily stand periods of drought. Another option is geranium. This plant loves the heat and doesn't require much water, making it a fine container plant.
When it comes to planters, these can be low cost and made out of clay, metal, ceramic, or plastic. If you're interested in more unconventional containers, consider using old teapots or wine and beer crates to give your backyard a rustic aesthetic. These are just a few backyard garden ideas.  
Inexpensive Paving Materials 
When discussing patio ideas on a budget, the choice of paving materials is another essential point to focus on. Remember to choose paving materials that match your home's exterior architecture or interior design elements.
Commonly used options include concrete, brick, flagstone, pavers, tiles, and stones cut into square or rectangular shapes. Remember that stone and concrete are less expensive. For example, concrete pavers can cost $13 to $20 per square foot, and poured or stamped concrete is around $6 to $13.
You can also stencil a pattern on the walkway to demonstrate a unique style. Moreover, you can also add an outdoor rug. Thankfully, there are multiple stylish and low-cost options available that you can buy when on a tight budget.  
Get Creative with Lighting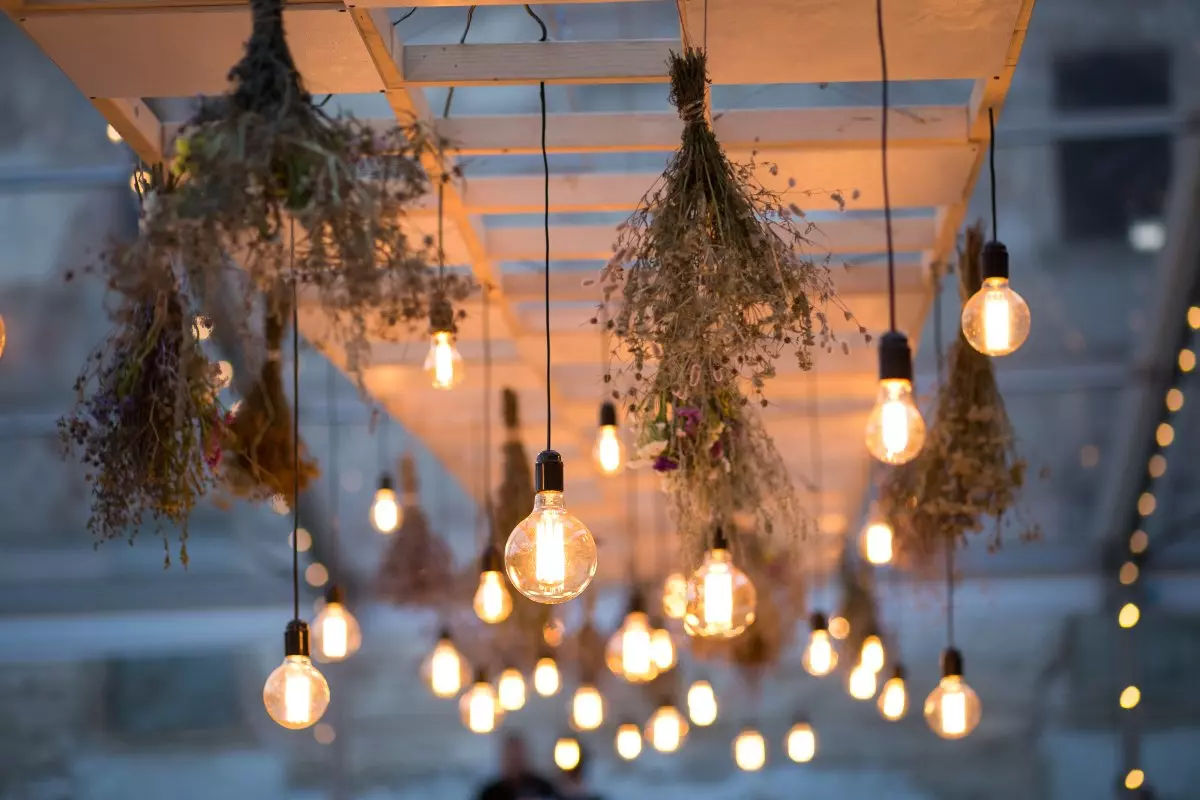 The choice of outdoor lights is another favorite part for those interested in small patio ideas on a budget. And that's with good reason. Lighting can make such a difference in a patio. You can use lights in more than one way to make your patio enigmatic:
Wrap a tree with string lights or drape them down a table if you need a creative backyard idea
Express a fun party attitude by adding bulbs to your patio 
Illuminate the walkway with the warm glow of low-voltage lights
Line the walkway with solar path lights to make your property safer and more beautiful
So, what lights can you choose for your patio?
Craft Some DIY Lanterns
You can try different patio lighting ideas on a budget. Of course, you can buy inexpensive vintage or new decorative lanterns. However, you can also make paper lanterns and try other DIY ideas using various stylish accessories. 
When decorating the space, you can cluster your lanterns on a dining table, place them around the edges of the area, or hang them on the walls. 
Add a Fire Pit
Adding a fire pit is among the most sought-after backyard patio ideas on a budget. Sitting around a backyard fire pit, you can enjoy warm summer nights and have an unforgettable time. Importantly, you don't need to buy expensive materials to build your own. 
Angled pavers and gravel for the base will be enough. You can complete such an easy DIY outdoor project on the weekend, and your family and guests can enjoy bonfires for the years to come. Gas fire pits are another low-cost option to consider. You can use Amazon and Walmart to get acquainted with prices. 
Rescue Old Items
Vintage garden design is gaining more traction as an inexpensive yet stylish way to decorate patios. Old décor pieces can help you beautify your patio and reflect the essence of the vintage style. For example, you can purchase painted metal lawn chairs or other dated-looking furniture pieces at sales, antique shops, and online auction sites and use them as sentimental favorites that will blast your guests to simpler times. 
Additionally, you can outfit an outbuilding or porch wall with old items or decorate the space with canning jars and antique pottery.  
Make Your Own Shade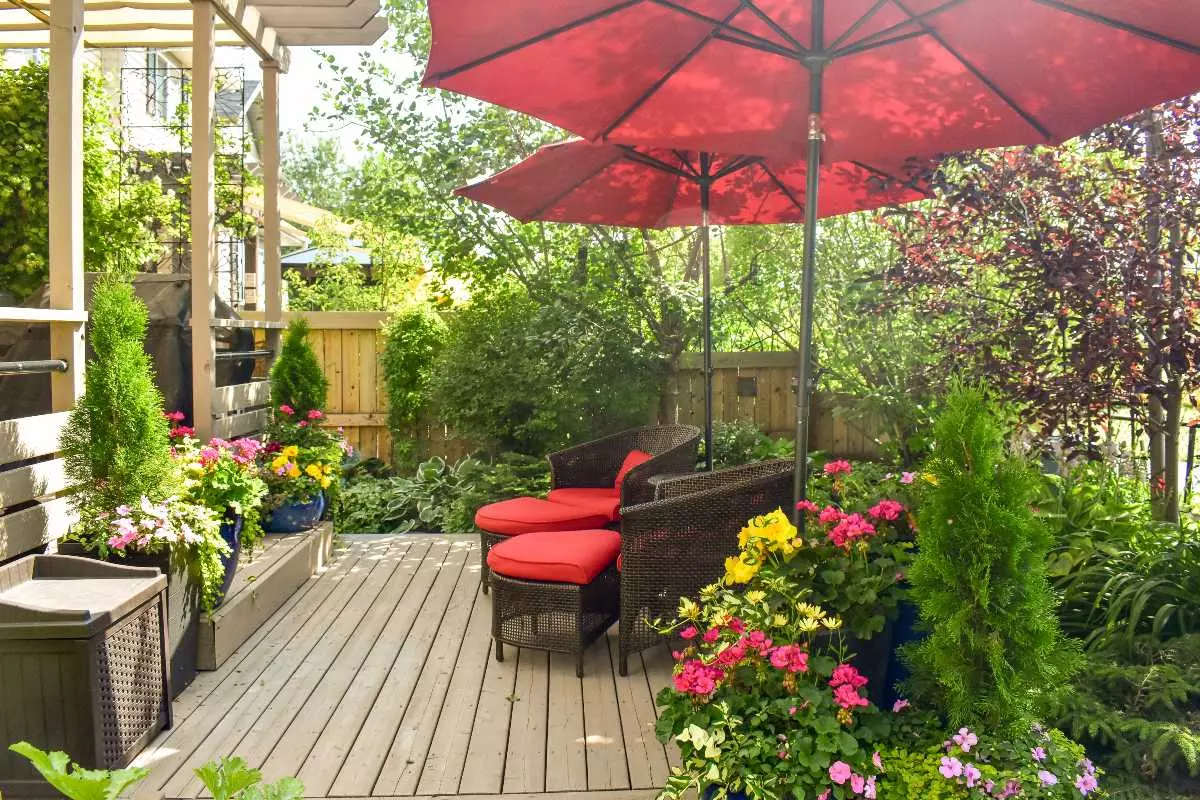 Are you dreaming of a peaceful outdoor haven? If your patio is under direct sun, you can plant small trees to make a shady place to sit. If you don't have enough space to plant trees, consider growing large plants in pots. As a result, you'll make your own shade with shrubs and trees instead of using a parasol.
For example, you can plant Philadelphia, which will provide natural shade and color. Other good choices include morning glory, sweet peas, black-eyed Susan vine plant, clematis plants, rhododendrons, and California lilac. 
Other affordable outdoor sunshade ideas include shade sails, pavilions, patio curtains, an umbrella, and a pop-up canopy. 
Mix and Match 
Sprucing up your patio with different colors and textures is among the most creative small patio decorating ideas on a budget. For example, you can pick a dominant color, such as green, and add others that complement it, such as white. Why not add metal accents to your wooden chairs? 
You can mix and match traditional and modern pieces to decorate your patio using the 80/20 rule. Namely, this means having a primary furniture style that will fill up 80% of your space and leave the remaining 20% for the secondary furniture style. 
Tank Pool
A tank pool is a great way to cool off all summer long. Place a tank pool in your backyard and enhance the space with the calming sound of water. You can add bistro lights, candle lanterns, or solar-powered fixtures to the edges of the pool. They'll cast a subtle glow on the mirror-like surface of the water.  
Build a DIY Fountain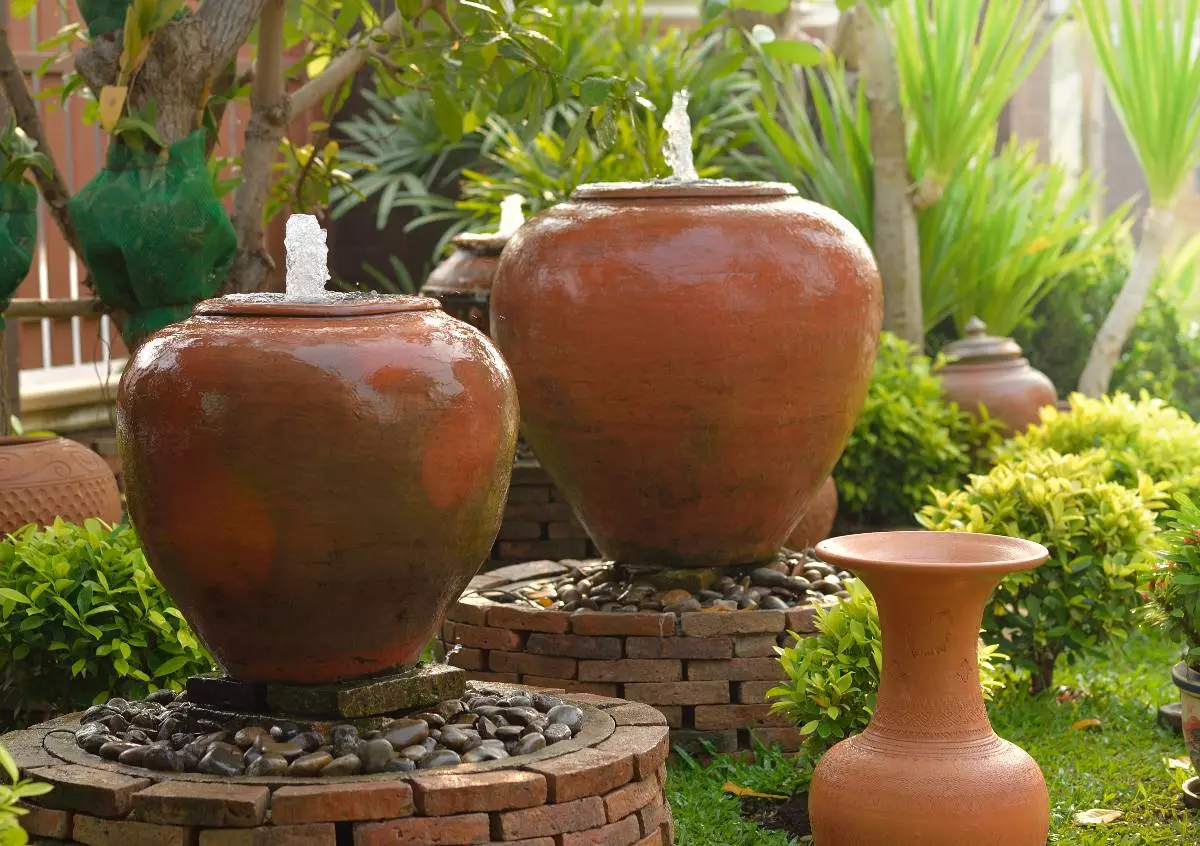 Let's look at one of the best DIY patio ideas on a budget: a DIY fountain. A fountain is an excellent addition to your place of solitude and leisure. So how can you create a DIY fountain? You'll need two flowerpots, one bigger than the other, river rocks, and a solar power fountain pump. 
Level the ground
Place the bigger flowerpot and put a large pail into it to serve as a base for the smaller flowerpot.
Stack the smaller flowerpot in the center and surround it with river rocks. If there is a drainage hole in the top flowerpot, seal it to stop the water from draining out of the pot.
Set the solar pump 
Pass-Through Window Bar
Finally, consider a passthrough window bar. You can build it to save space without putting much effort. Specifically, a passthrough window is ideal for serving food and drinks outdoors and indoors. 
Consider creating a passthrough from your kitchen to your outdoor space. For example, you'll need a bifold passthrough window to connect the interior bar to the patio and barbecue area. Also, you'll need a tabletop that fits the size of the foldable window. 
Sum Up
Many are interested in patio ideas on a budget, especially during the summer season. The good news is that you can create an outdoor oasis with inexpensive materials. You need to select plants and paving materials for your patio and get creative with décor and lighting. Also, you can build a fire pit, tank pool, DIY fountain, passthrough window, and make your own shade. Finally, you can mix and match the old and new.