Starting a sticker business is one of the easiest and most cost-effective businesses you can start today. It's an ideal side hustle for creative people that will allow them to earn some extra cash while unleashing their creativity and fulfilling the customers' needs. In addition, stickers are so fun to create and easy to produce. Plus, you can launch your business from the comfort of your home as you don't need much storage space. In this blog, you will learn how to start a sticker business, create your designs, and run your profitable business.
Find Your Audience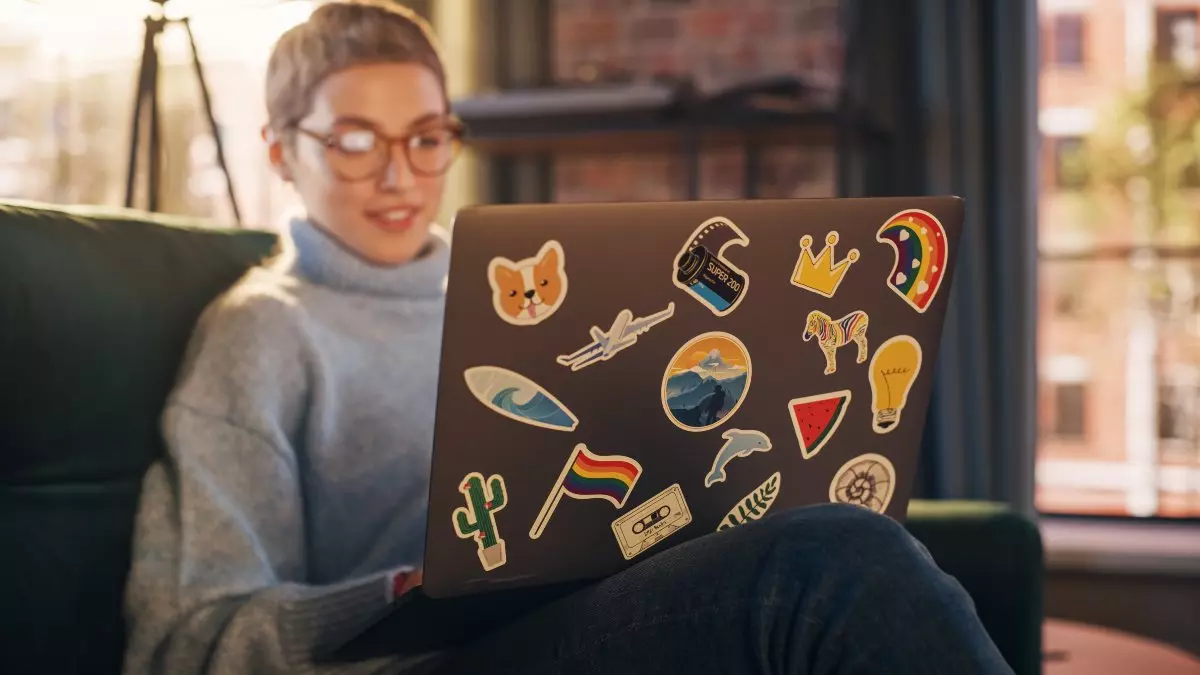 The first step is to find your target audience–the group of people who are most likely to be interested in purchasing your stickers. To do so, conduct market research to have a thorough understanding of your ideal customer. For example, you can choose to sell your stickers to both individuals and other businesses. Then, if you want, you can also let your customers order customized sticker sheets and sell them at wholesale prices. If they find your work consistent, there is a big chance that they will come back to you to order more. Moreover, consider studying your competitors to discover gaps you can fill and cater to something new.
Set up Your Shop
Next, you need to set up a platform to sell your stickers. The most efficient way to do so is by setting up an online shop. First, consider setting up your website and using keywords relevant to your business to increase visibility and attract your target audience. Then, optimize your website with SEO to organically grow your ranking on web search results.
Also, consider joining online marketplaces, such as Etsy, to get your products off the ground. Of course, online platforms will charge you fees; however, they are not too high. Expect to pay around $0.20 per listing and 5% for each sticker sold. 
How to Create Sticker Designs
There are two ways to create sticker designs. You can either draw your original designs from scratch or buy pre-existing designs and print them to sell. If you wish to make your unique sticker designs, this will set you apart from your competitors because you are offering something new and original to your audience. Moreover, if you want to design your stickers yourself, consider accepting commissions on your website or online shop and creating custom-made designs for your customers.
On the other hand, buying pre-existing designs is less time-consuming, but they likely won't be unique, and the customers may buy them from someone else. Moreover, the sticker market is saturated, and it is best to offer unique designs if possible. So, if you have enough money, consider paying a premium for custom designs that are exclusive to your shop.
Type of Stickers You Can Offer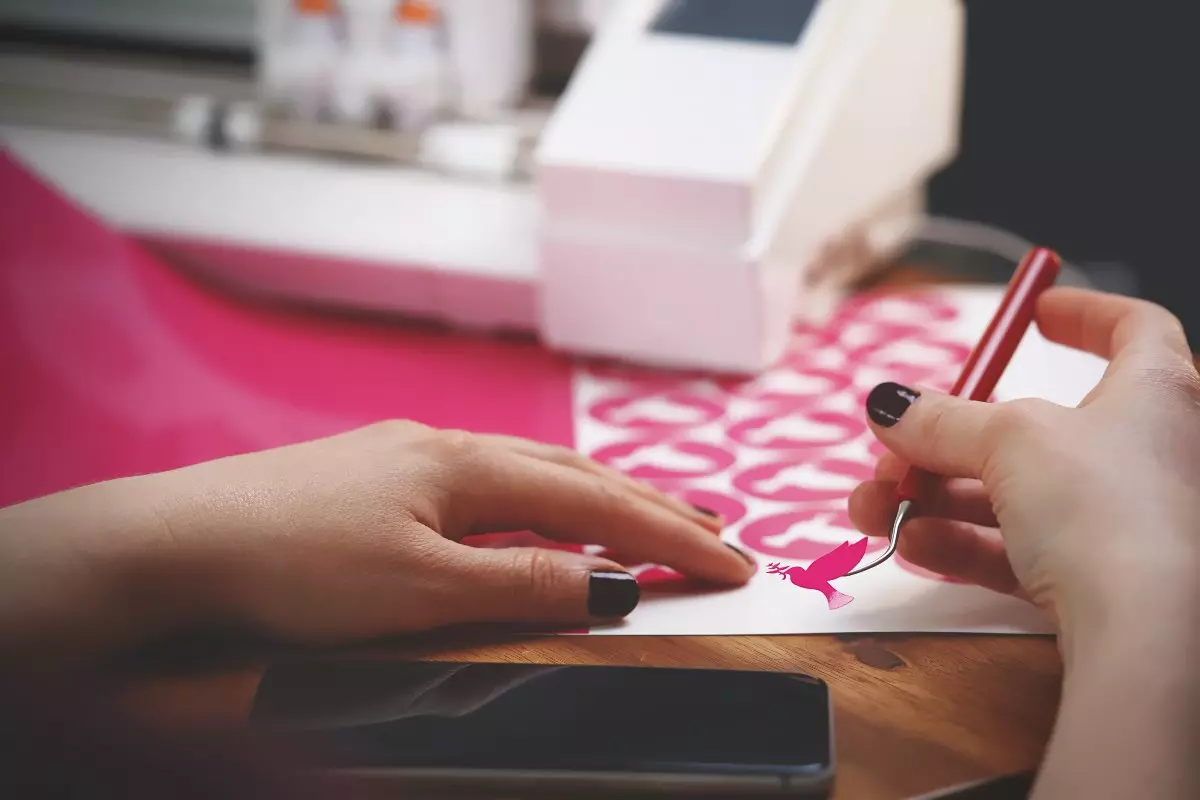 Stickers can be used for multiple purposes. For example, they can be used to decorate and beautify your personal belongings, highlight your unique sense of humor, or praise a student's behavior in the classroom. Businesses can also use stickers with their logo and tagline as an effective marketing strategy without spending much money.
So, once you have figured out your target audience, it is time to decide what type of stickers you want to sell. Here is a list of different sticker business ideas:
Clear Stickers
Clear stickers are water and oil-resistant. They are also ready for the outdoors because they are UV laminate and abrasion-resistant. Moreover, clear stickers are printed with a front face adhesive to be used on inside surfaces facing out, such as windows. That's why clear stickers are widely used as window signage for businesses. They are printed on premium weatherproof vinyl and can be die-cut in any shape. 
Logo Stickers
Logo stickers are a cost-effective marketing tool for all types of businesses. You can create custom-made logo stickers for your entrepreneur customers who run their businesses, or you can make them for yourself and give them away to customers as a gift or reward. Logo stickers are a great tool to promote any business by sticking them out on products like laptops, cellphone cases, copybooks, journals, or paper bags. 
Minimalist Stickers
Minimalist stickers are trendy, small, and simple abstract sticker designs. They are great for beautifying different surfaces such as laptops, guitars, journals, and even refrigerators. Minimalist stickers are so trendy that even businesses consider minimalism for their marketing materials, such as logos and business cards.
Die-Cut Stickers
Die-cut stickers are precisely cut to the shape of your design. They are scratch, moisture, and sunlight resistant and can adhere to any smooth surface indoors and outdoors. Lastly, they are easily made in different sizes, shapes, and quantities and offer endless customization possibilities. As a result, die-cut stickers are ideal for business promotions and personal branding.
Photo Stickers
You can turn any photo, including those submitted by your customers, into stickers by offering photo stickers. They can be used for promotional activities or simply for personal purposes to cherish memories. This type of sticker is made with vinyl material and can be fixed on lockers, wine bottles, or mugs. Most importantly, photo stickers stick on strong but remove cleanly.
Bumper Stickers
This type of sticker is made of waterproof vinyl and printed in different colors, fonts, and shapes to convey humorous, religious, or commercial messages read by the occupants of other vehicles.
Get a Cutting Machine or Outsource Printing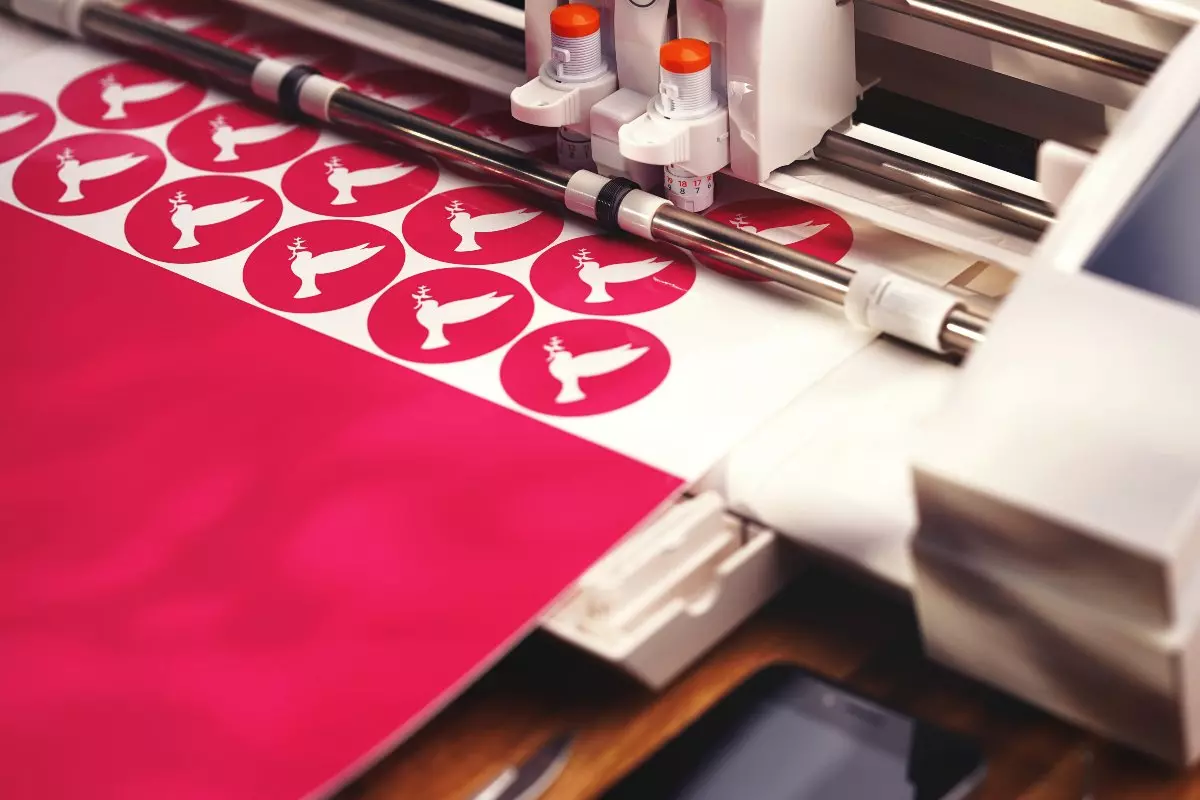 To start printing your stickers, you have two options to choose from. You can get a cutting machine or outsource the printing. If you want to print them yourself, consider getting a vinyl cutting machine to have the most control over the outcome of your stickers. You will also need a printer to print your stickers. However, printing and cutting stickers at home will require more time and labor than outsourcing them, but it can keep your prices low. Also, you don't have to worry about buying in large quantities and keeping inventory that may not sell. Two of the most popular vinyl cutting machines are Circuit and Silhouette Cameo.
On the other hand, consider outsourcing printing if you are not ready to invest in the equipment needed to print and cut your stickers. This option is especially beneficial if you are just starting a sticker business and unsure which designs will sell. Outsourcing will cost a little more than doing it yourself, but it can increase productivity. Before outsourcing, consider checking out some of the company's prototypes and digitally printed samples to understand the quality and style of the production.
However, if there comes a time when you get hundreds and thousands of orders, it is also best to outsource your stickers because it may be labor-intensive to print and cut all the orders yourself. 
Pricing Stickers
One of the most challenging aspects of starting a sticker business is determining your pricing policy and finding the right balance between cost and profit. When you underprice your products, you may receive a high demand and volume for their stickers but may risk being viewed as cheap, which will harm your reputation. This can also significantly impact the type of customer you attract. On the other hand, overpriced stickers may repel customers, which may damage your sticker startup business. 
Moreover, before placing an order, customers are most likely to explore their interests and look at your competitors to ensure they are getting a fair deal. Therefore, it is essential to research your competitors and understand their pricing strategies.
To decide how you will price your stickers, identify the type of customer you want to attract and how much they are willing to pay. Then, consider preparing a survey and asking your customers to fill it out to get the information you need. Consider asking them about their age, gender, location, buying habits, and level of price sensitivity.
Then, identify all your costs and consequently mark up your stickers. The actual price of your stickers may include the cost of raw materials, supplies, operation, or shipping. Consider creating a spreadsheet and write down all the expenses involved in running your sticker-making business. Doing so will help you understand how much you need to price your stickers to break even and factor in a profit.
Make Your Stickers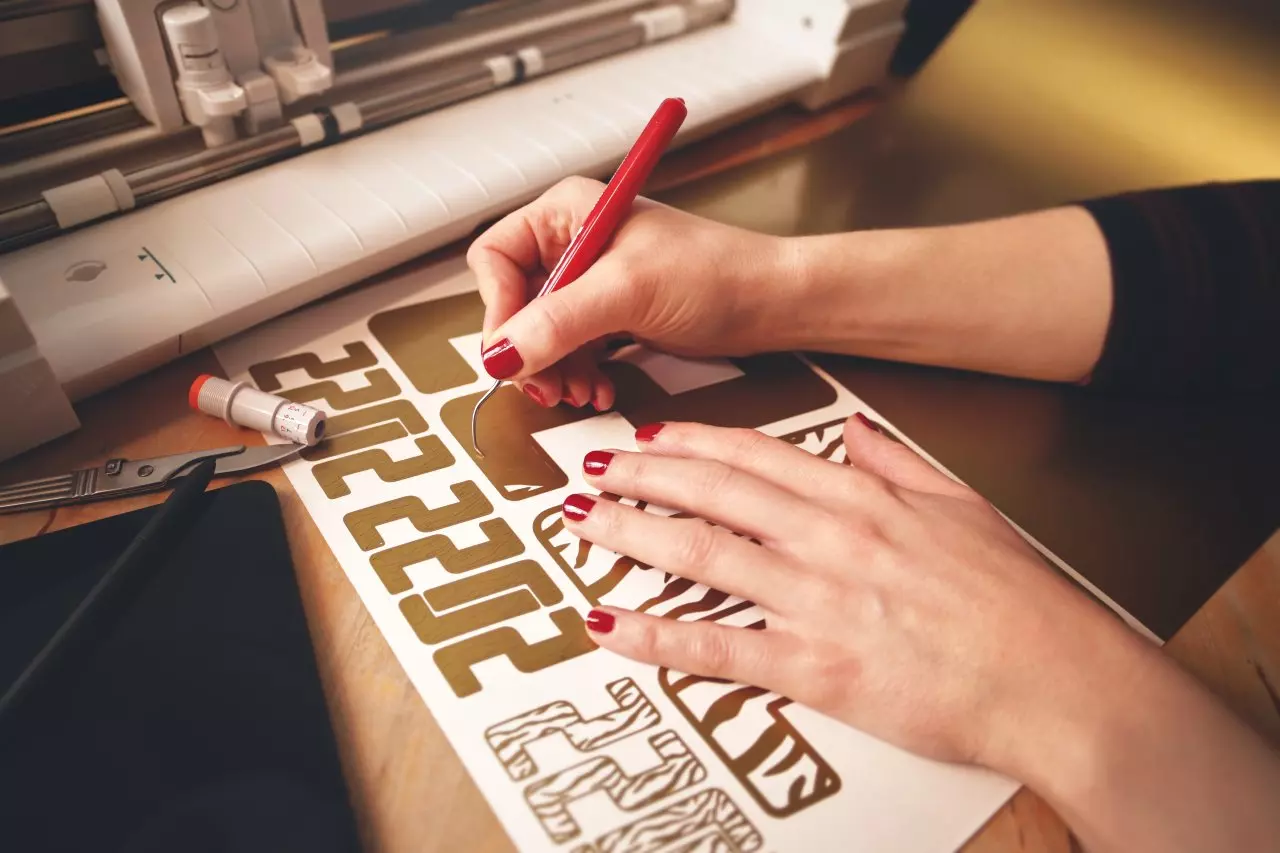 Now that you have figured out the type of sticker you will be offering, whether you want to purchase your cutting machine or outsource printing, and the price of your stickers, it is time to start making your stickers. Bring the ideas from your head to life as physical products, ready to sell. But first, you need to pick your sticker paper to make your stickers.
Pick Your Sticker Paper
Deciding your sticker paper is another essential to your business. For example, do you want to offer stickers with a matte finish, glossy finish, or both? It would help if you also considered the thickness of the sticker paper. Ultimately, you may want to try more than one type of finish and one type of paper before choosing the best one for your business. Also, consider conducting market research to find out what your audience wants.
Sell Your Stickers
While some businesses need a lot of startup capital, starting a sticker shop may not need much investment at the beginning. To start selling your products, upload photos of your stickers on your website or e-Commerce platforms such as Etsy or eBay for customers to see and purchase. Make sure that your price point gives you a profit and includes all fees. 
Decide on Shipping
To get your stickers to your customers, you need to decide on shipping. If you have decided to sell on an e-commerce platform, the chances are there is a shipping option included. If not, you need to research and determine which shipping carrier you would like to use to dispatch your products.
As for packaging, consider using stay flat/rigid mailers instead of letter envelopes to prevent the stickers from bending, folding, or crinkling in the package. You can also put the paperboard mailer in a small plastic envelope to protect it from liquids.
Aside from stickers, consider including a freebie or your business card with a discount code inside the package to thank your customers for supporting you and encouraging repeat business. You can also add a flyer advertising your latest products.
Market Your Stickers
Marketing your stickers is vital because it educates people about your products. Consequently, your sales may increase when people are well-informed about your product. There are different marketing strategies you can use to grow your business profits.
For example, set up your social media pages and regularly update photos of your stickers. Make sure to use appropriate hashtags to get them in front of your target audience and link back to your sticker shop so that people can access and purchase them easily.
You could also take some of your stickers and stick them around the city to let potential customers know about your products.
Sum-Up
The sticker market is competitive. But if you have unique design ideas and are ready to invest in this business opportunity, you should give it a shot. Once you set up your online shop and start making a profit, consider expanding your range because bringing fresh products to the market may help keep customers interested and sales flowing in.